We Deliver to all USC Facilities
Approved Vendor accepting PO's (Apetit Inc, dba Good Heart Catering)
--- USC Main Campus
We know our way around.
On campus delivery available to all buildings. We are near usc and our drivers are trained for on campus delivery and will know where to park. Just leave us the building code and room number on the second address line. USC Medical Campus
Both for staff and students.
Delivering to all buildings at the health sciences campus including the nearby annex building on Soto. USC Offices and Hospitals
Around Los Angeles
We service the many offices and hospital location around Los Angeles and surrounding cities. Galen Center Stadiums
Large or small events
We cater the Galen center and LA Memorial Coliseum for tail gate parties, pre and post game events, visiting team meals. training session and private parties.
We know planning your on campus or off-campus event can take a lot of time and energy, and we're here to help and make you look good.
Our USC catering service is chef-driven using quality ingredients from local food artisans, and local vendors. We offer value driven menu with an easy to use website to schedule your deliveries.
We also offer ample choices for most dietary restrictions. (vegan, vegetarian, gluten free and pescatarian).


Your guests will love our USC catering service


Last Minute Campus Catering
Many of our options are available to order the day before and even day-of. Our catering concierge team is standing by to assist you with any last minute catering needs you may have headed to downtown.


Use USC internal PO
We have a track record of 99.99% on time or early deliveries with our in-house logistics team. We don't rely on 3rd party services when your production schedule is critical.


Dietary restrictions
It can be tough to serve large groups of people with various dietary requirements on set. Gluten-free, vegan, vegetarian, and pescatarian options are all available as options on our menu. We provide a range of options for everyone on your list.



Insured and Approved for Delivery On-campus
Our catering concierge is here to help with any aspect of your event dealing with food. They can plan and set a delivery up with just a single request. No need to deal with the details. Founded by a Trojan!
Continue the tradition.
Being accepted to USC was a dream come true. I'll never forget the first day I walked on campus as a student and the pride it engendered in me. USC has offered me amazing opportunities that led to establish Good Heart Catering. To give back to USC i've served as a mentor to first gen college students for 6 six years.
I'm excited to serve your department.
Jon T. CEO We believe in good food
We believe in good service
We believe in sharing
Low minimums and low to free delivery fees*
Catering USC with amazing food
Our catering features
Amazing locally sourced and chef driven recipes
Large variety of flavors

Gluten Free and Vegan accommodations
Large and small campus events
We work with LA's Best
LA's top production companies consistently trust us to deliver delicious catered meals on set.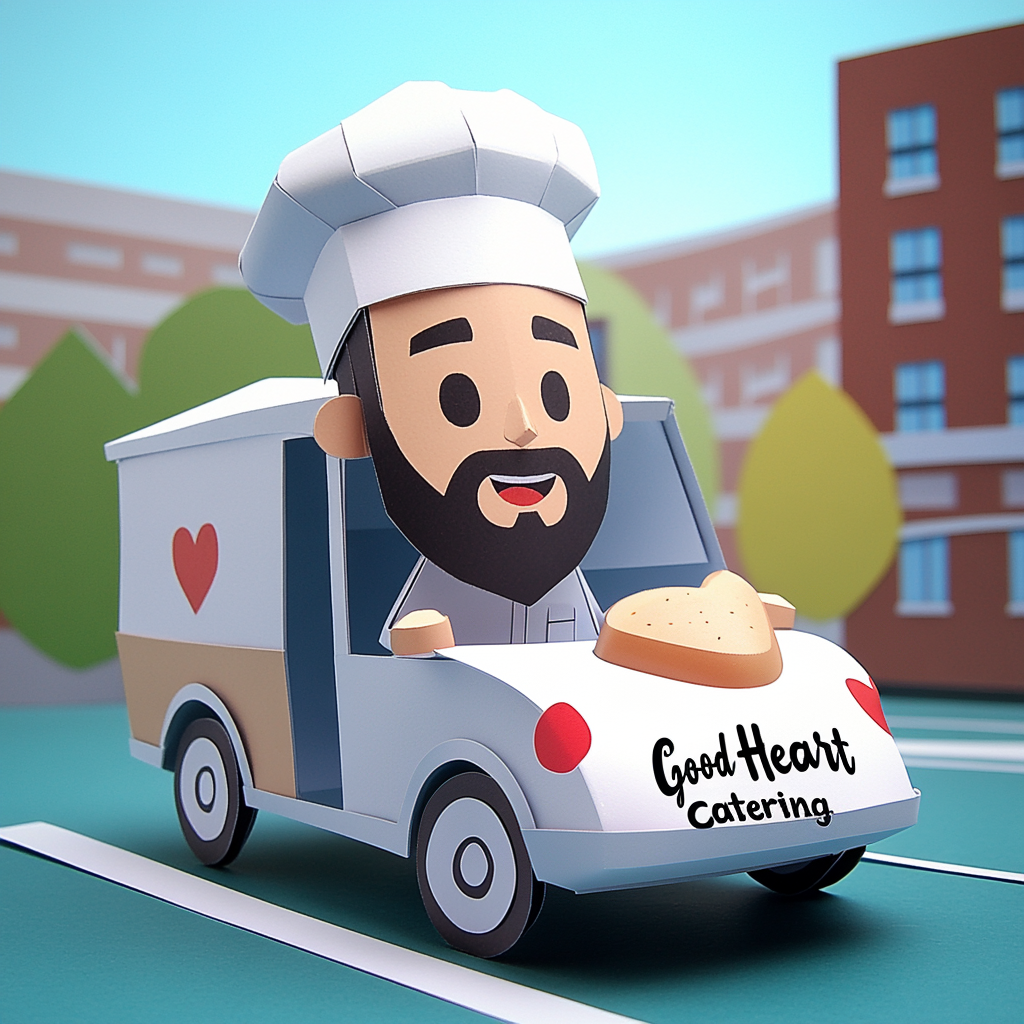 ---
About Good Heart Catering
We are LA's premier organizational caterer with a focus on consistent and dependable service. We believe that the food we cook in our kitchen brings people together in a way that sparks innovation and conversation. Our goal is to offer you and your organization best in class catering, presented in an easy to order format. Support Local Business Read About Our Community Participation

---


Send me specials
Breakfast Catering USC
Early service starting at 7:00 am
Breakfast trays & individually packed breakfast
Choose whichever fits your event
Sample of our Breakfast Trays
Sample of our Individual breakfast boxes


Our downtown LA breakfast catering service offers fresh, innovative and classic dishes with scrambled eggs and fresh pastries for any occasion and we're always sure to satisfy your needs with our reliable staff of chefs who are ready to serve! View our full menu of self serve or individually packaged breakfast items for your next event.


Robust and easy breakfast catering


Vegan scramble?
When you're vegan, breakfast can be a tricky meal to navigate. For some people this means the occasional pastry or smoothie from their favorite juice bar; however at Good Heart Catering we offer an amazing tofu scramble alternative that we substitute in place of eggs.


Early Breakfast Service
We serve breakfast catering as early as 7am, so you can start your day off right. We offer both individual and group buffet style services with options for any appetite - from those who prefer their eggs cooked to perfection all the way up through vegan diets!
USC Breakfast Catering
Our breakfast catering features:
Early morning delivery
Meals for everyone on your team

Amazing recipes full of variety
Dependable delivery
Our pastry partners
All of our baked pastries are delivered fresh from the venerable Brooklyn Bagel Bakery on Beverly and Bread LA. Lunch Catering to USC
Self service trays and platters
Lunch Catering Trays and Platters
Self service trays and platters
Sample of our Lunch Trays
Looking for a delicious and affordable way to feed a crowd? Our lunch catering trays and platters have you covered! From tasty sandwiches to skewers, we have everything you need to serve a mouthwatering meal. Plus, our combos on offer make it easy to quickly order and serve. So why wait? Order your lunch catering today!

Hassle free a-la carte lunch catering


Create your perfect lunch
Our menu is a robust and flexible for you to mix and match many of the different items we have on offer. Or if you prefer, browse our combo packs with a combination of complimentary items packed together. Either way, your guests will love what's on offer.


Local and Fresh
Each meal is prepared using locally procured items from vendors we've worked with for nearly a decade. The idea of wonderful ingredients, passionate people come together at Good Heart Catering.
USC Lunch Catering
Our lunch catering features:
A-la carte menu options for custom orders
Wide selection of choices

Easy to setup and dispose of
Unique recipes with wholesome ingredients
View our items in motion
We've made a few videos of our menu items for you to check out. Boxed Lunches
Individually packed and filled with goodies
---
Sample of our boxed lunch packages
Looking for a convenient, affordable way to feed your guests? Our Boxed Lunches are perfect! We offer a wide selection of delicious sandwiches, all served in individual boxes. Plus, we have several packages available to fit any budget. Whether you're planning a business meeting, party, or other event, our Boxed Lunches will take the hassle out of feeding your guests!
Socially distanced boxed lunch meals


A great idea for large orders
When you're serving large groups, it can be difficult to keep up with all the food. But our individually packed and labeled boxes make setup a breeze! They look good too - which is important for any occasion or event where presentation matters.
View Boxed Sandwiches and Salads


Multi-day event
Our boxed lunches have helped countless multi-day events with a unique daily menu. When there are time constraints and lots of moving pieces, count on our boxed lunch service to alleviate the bottlenecks.
Boxed lunches delivered to USC
Our boxed lunch features:
Easy to distribute
Packages for every budget

Color coded and labeled for easy distribution
Assorted varieties to fit all dietary needs*
Individually packed
Great for large events, but also available with low minimums. *our facility and our partners facilities use nuts in preparation of items. We cannot guarantee a nut free facility.

Unity Meals
When you need more than sandwiches our unity meals make maximum culinary impact.
---
Sample of our unity individual meals
Looking for a way to break the ice and bring people together in the office or at your event? Unity Meals are here to help! Our individually-prepared meals are made with fresh, delicious ingredients and come in a variety of choices, perfect for any modern environment. Whether you're looking for a healthy meal or something indulgent, we've got you covered – so come on, break bread with us!
Flavorful individual catered meals


5 Star Meals
Often times the situation calls for more than sandwiches for larger groups. In those cases we recommend our Unity meals. Our globally-inspired flavors will tantalize your taste buds and leave your guests surprised. Come see what all the fuss is about today!


A flavor for everyone
We've carefully cultivated a menu so that no one in your event feels left out. We offer vegan, vegetarian, gluten free and pescatarian meals.
Individual packed and USC loved.
Our unity individually packed meals
Come with a sweet side
Provide a finer culinary experience

Easily labeled and stackable
Perfect for large groups
Individually packed
Wonderfully labeled and easily stackable Timely delivery is a top priority
We understand the importance of your event and time schedules. Our primary concern is to get there in time to make your event flow smoothly. Our delivery staff and partners are trained in handling lunches and platters to ensure a delivery free from defects and on time. Each route is pre-planned and discussed prior to delivery to ensure no surprises. Trust Good Heart as your box lunch caterer in LA. We are proud of the service and value we deliver
--- Watch our food in motion on YouTube